Two Mexican entrepreneurs, Adrián López Velarde and Marte Cázarez create an organic leather from cactus leaves, making them the first to bring cactus-based Vegan leather in the market. These cactus leathers were used to make apparels ranging from shoes, handbags, wallets to car seats, under the brand, Desserto. Desserto created a sensation when it makes it's debut in October 2019 in Milan, Italy at Lineapelle, the world's largest leather fair. Reception to the cactus leather was overwhelmingly positive, with the material being lauded for its flexibility, softness, touch, and colour. Moreover, it is biodegradable, breathable, stain-free, cruelty free. It is also sustainable alternative, without any toxic chemicals, phthalates and PVC. Their stories was featured over 700 times in media all over the globe, since its debut.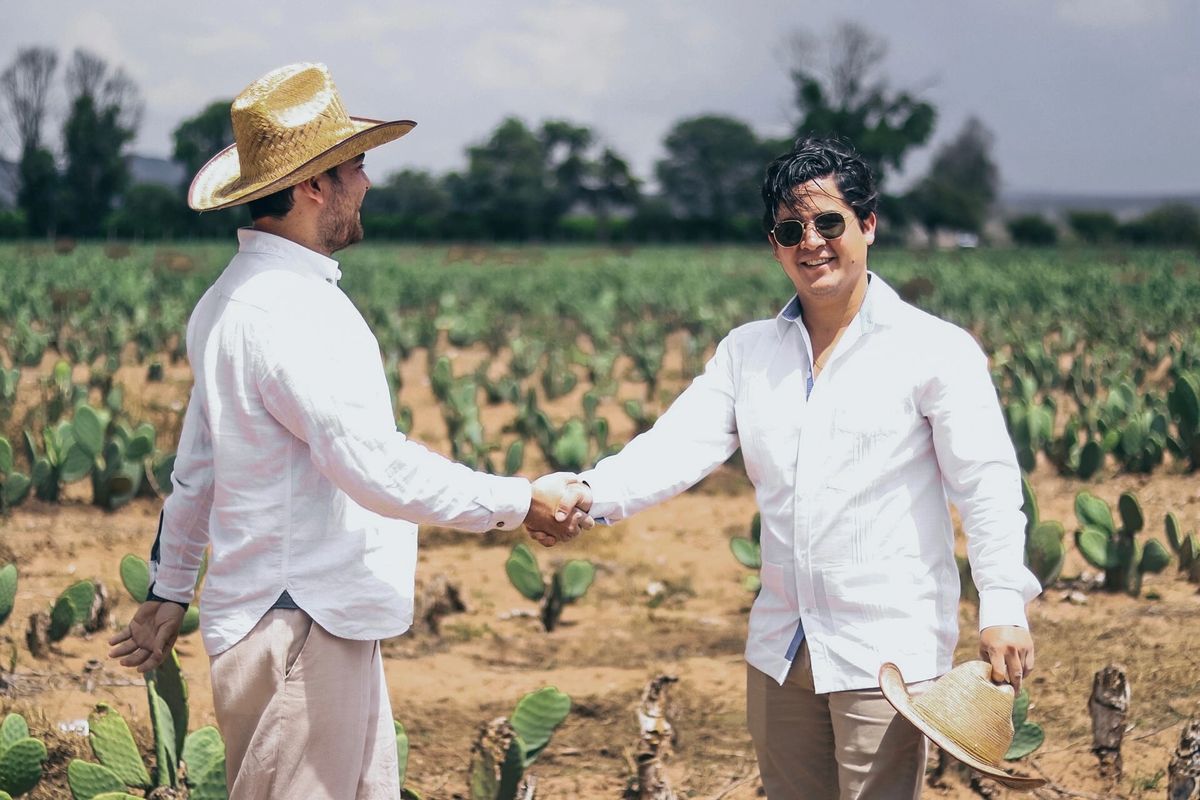 Their entrepreneur journey
Research and development
Adrian and Marte decided to leave their jobs and create a company, Adriano Di Marti which focus on creating cactus-based vegan leather.
Adrian used to work in automobile industry and Marte in fashion industry. But they realized that the industry they are working was creating huge environmental pollutions. Fashion industry is the second largest polluter in the world and leather is a stable in both the industry. So, they decided to make a change. In search of a sustainable solution, they start researching on plant-based material to create organic and eco-friendly leather. Interestingly, the solution was right in front of them. It was the nopal cactus, which was grown in Mexico in large amount. Cactus is the most abundant plant in Mexico and requires little water to grow. Cactus also absorbs a lot of CO2, hence called, "Carbon eating machines" which is good for the environment.
The idea of using cactus was conceived because cactus did not need water to grow and it is everywhere in Mexico. Most importantly, its represents all the Mexicans. It took them two years in research and development to bring a cactus-based leather in the market with a quality comparable to animal and other synthetic leather in terms of flexibility and breathability. On top of that, their leather is biodegradable, cruelty free, eco-friendly without any toxic chemicals, phthalates, and PVC unlike other competitors in the market.
Low water use, partially biodegradable and free of toxic chemicals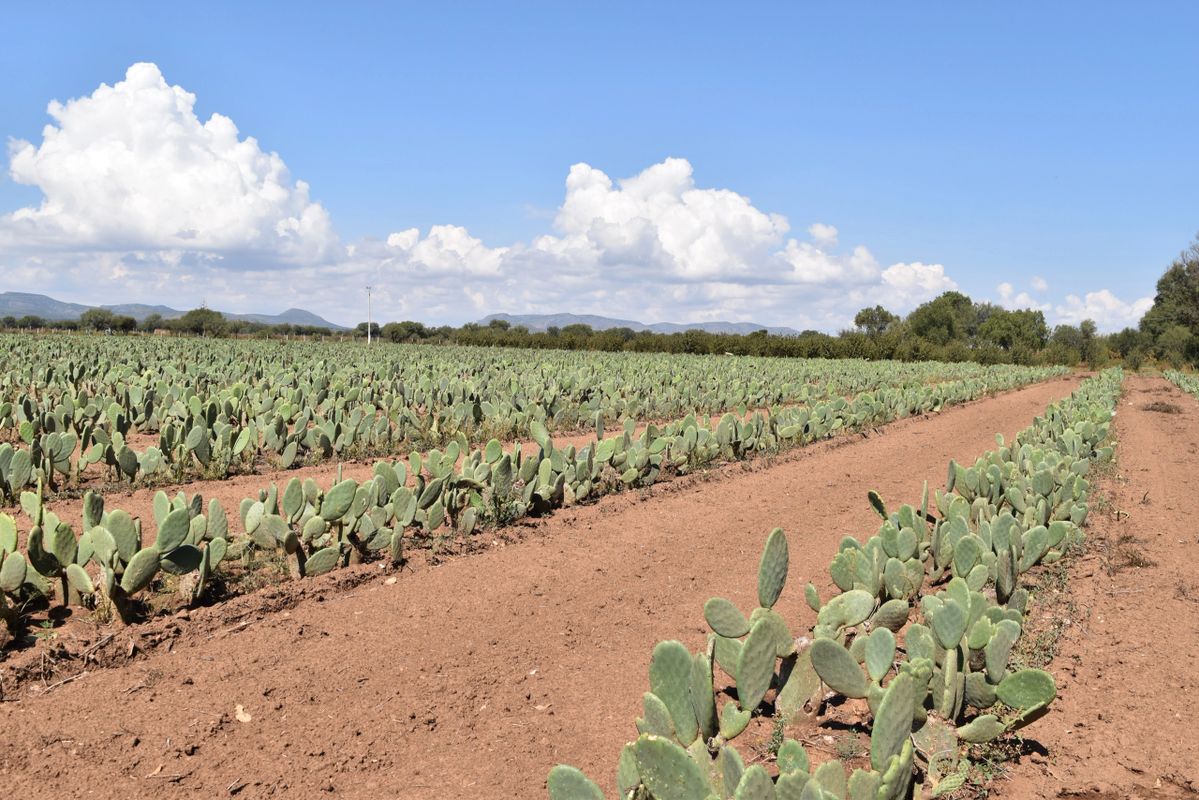 Adrian and Marte started planting the cactus in México, in the state of Zacatecas. During harvest, they select and cut only the mature leaves without damaging the cactus itself. They also did not use any irrigation system for the cactus, rainwater is the only source of water. After cutting, the leaves were tried under the sun without using any other drying process that involves energy like gases and ovens. It was then later processed into a leather using the company's patented formula. No herbicides or pesticides were used, and they have been certified organic by PETA, USDA, and other regulating authorities. Their product was finally launched in July 2019 under the tradename, Desserto.
Desserto's debut at Lineapelle
Lineapelle is the biggest and most important leather fair for leather manufacturers. It was held twice yearly in Milan, Italy. Desserto first showcased its product to the public at the Lineapelle fair in October 2019 and the reception was overwhelmingly positive. Their product got the attention of many designers and industries from around the globe.
 "Apart from the many congratulations and positive comments, an expert at Lineapelle said that our cactus leather is the most appropriate for use in luxury segment thanks to its flexibility, softness, touch and colour," said Adrian Lopez to Fashion United. Their product may be the most appropriate used for luxury segments, but they plan to make their material accessible for the small and medium sized companies and that is the greatest challenges they faced, admits Adrian Lopez. When asked how the industry view their material as the sustainable leather alternatives, Adrian said that the European market is absolutely ready to incorporate into its production lines. He also told Fashion United, "It's the right time to offer this alternative, because not only are consumer industries interested in new materials like these, but also more and more end-consumers are demanding environmentally friendly materials,"
Desserto's showcase at Raw Assembly, Australia
Desserto also showed their products at Raw Assembly, Australia's first sustainable fabric sourcing event for the fashion industry and got an amazing response as well. Vogue Australia reported that Desserto has the most buzz of all companies at the entire event.
Leather industry
Most leathers are made from animal skins and synthetic chemical (Vegan). In the past, to make leather, people used the skins from the animals that were butchered for consumption. Today, 72 billion animals are slaughtered just for the skin to meet the increasing demand of leather in the fashion industry. Lots of chemicals are used during tanning as well creating a huge environmental challenge.
Most vegan leather are made from plastic either PU (Polyurethane) and PVC (Polyvinyl chloride) which contain toxic chemicals such as phthalates. These toxic chemicals are non-biodegradable and ends up in landfills and pollutes the soil.
Desserto today
Desserto's Cactus-based vegan leather is the breakthrough that has shaken up the booming $80 billion leather industry. First of all, they are vegan, they are organic and partially biodegradable. Apart from that, they are breathable, stain-free, flexibility with a durability of 10 years. Only time will tell how the company will influence the fashion industry, especially leather. Fashion experts but environmentalists believe this is a big breakthrough.
Currently they have 2 hectares for nopal cultivation with a capacity to expand to 40 hectares. They have the production capacity of 500,000 linear meters per month. They are working with other companies in order to scale up the production.
Awards
Desserto was awarded with the Material ConneXion Seal of Material Excellence and was featured at the New York Material ConneXion. Desserto has also been nominated by green product award 2020.